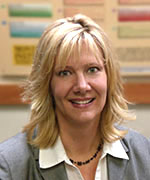 Assistant Director of International Management and Operations
---
ebursac@miis.edu
Monterey, CA
831.647.6531
Activities
Ms. Edith Bursac is responsible for the management and successful execution of internal and external conferences, board meetings, events, seminars and training programs, including the renowned NPT Diplomatic Workshop held annually in Annecy, France, as well as high-level meetings of the Monterey Nonproliferation Strategy Group (MNSG) and CNS International Advisory Board (IAB).
Background
Before coming to Monterey, she worked at the Organization of the Petroleum Exporting Countries (OPEC) in Vienna, Austria. She is a member of Meeting Professionals International (MPI) and speaks several European languages.
Education
M.A. in International Policy Studies from the Monterey Institute of International Studies with a specialization in International Security
B.A. in International Relations, summa cum laude and Phi Beta Kappa, from The American University in Washington, DC.
Bibliography
"Jihadist Capabilities and the Diffusion of Knowledge," (with Sammy Salama) in Gary Ackerman and Jeremy Tamsett, eds., Jihadists and Weapons of Mass Destruction: A Growing Threat, Taylor & Francis (Auerbach Publications), December 2008.