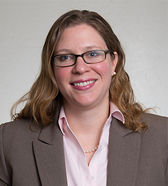 ---
mhanham@miis.edu
Monterey, CA
831.647.6507
Activities
Melissa Hanham is a Senior Research Associate in the East Asia Nonproliferation Program (EANP). Her regional interests include the denuclearization of the Korean Peninsula, North Korean WMD procurement and proliferation networks, China's nuclear posture, and East Asian security. She also studies Chinese, South Korean, and Japanese nuclear exports, as well as East and Southeast Asian export control systems.
Melissa supports CNS' research by investigating new techniques in open source geospatial analysis, incorporating imagery and other remote sensing data, large data sets, social media, 3D modeling, and GIS mapping. She teaches "Open Source Analysis for Nonproliferation and Terrorism Studies" at the Middlebury Institute of International Studies, and is a regular contributor to Arms Control Wonk and Bellingcat.
Additionally, she assists the Export Control and Nonproliferation Project with research on proliferation financing and money laundering.
Background
Previously, Melissa worked for International Crisis Group in Beijing, China and Seoul, South Korea.
Education
MA in International Security Policy and East Asia from Columbia University's School of International and Public Affairs
BA in International Studies from Johns Hopkins University.
Certificate of Nonproliferation from the Monterey Institute of International Studies.
She speaks English, Chinese, and French.
Bibliography